Micro Focus positions the Operations Bridge Suite (OpsBridge) as a modern, container-based framework for IT event and performance management. While the Operations Bridge Suite launched in 2016, the underlying product capabilities, delivery models, and tool maintenance approaches are a carryover from its 25 year old legacy.
Today, your event management framework should handle datacenter workloads and cloud-native services in a single place. Make no mistake, OpsBridge was never built for today's world of on-demand, elastic services.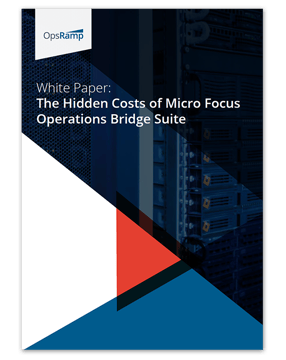 In this white paper, discover the four hidden costs that you should consider while working with Operations Bridge:
Too Many Tools
Learn why legacy ITOM suites like OpsBridge that depend on a whole host of third party tools are a drag on your team's productivity.
Deployment Model
Understand why your senior IT staff will spend all their time deploying, monitoring, and maintaining Operations Bridge.
Hidden Fees
While you'll start with OpsBridge license costs, you'll keep spending on annual maintenance fees and premium management packs.
Scalability
Learn why you'll need to invest in a sizeable infrastructure footprint for scaling your OpsBridge event management framework.